Say Goodbye to Painful Dental Needles !!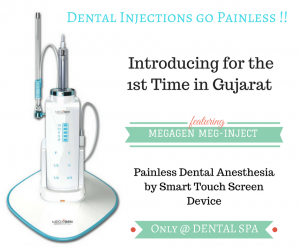 Welcome to Digitally Advanced Dentistry in the 21st century"
Latest painless Dental Technology and Advanced Gadgets for Easing Dental Fears
 Painless dentist—
Are you Scared of Big needles used by the Dentist ? Needle phobia ? Scared to approach a Dentist for the same reasons ??
Look no further. Here we introduce the latest in Painfree Dental Technology in Vadodara - MEGAGEN MEG INJECT from Korea. It is the best and the only Painfree device in the world developed to deliver Painfree dental anesthesia.
Portable and handy touch screen device, looks like a smart gadget - but does the work magically and efficiently. It delivers dental anesthesia in a painless way with controlled injection flow rate
Only At Dental Spa, Dental Clinic Vadodara, Gujarat , India.
Dental Spa Clinic has all of the new and the latest advancements in technology all under one roof which results in unparalleled patient care treatment , comparable with International Standards.
Fully Automated Dental Chairs
Diagnostic Units
Patient Care & Comfort
Sterilization Equipment
Treatment Technology
iPad's mounted on all Dental Chairs
Visit the best and Painless Dental clinic in Vadodara today to feel the difference. Call 9537973737 for more info.