Our Vision
To be a company that attracts, rewards, and retains highly skilled Dental experts. Our proactive approach to the development of best business practices and promotion of effective treatment methods will help us accomplish this.
Our Philosophy
Dental Spa is committed to providing high quality Dental care services in beautiful state-of-the-art facilities.
As a Dental Care leader we partner with groups and events within the communities we serve. Our focus on our Dentist's continuing education is unmatched and guarantees our Dentist's understand and put into practice cutting-edge treatments and rehabilitation techniques available for all types of teeth problems & oral conditions.
Our Mission
We are committed as primary healthcare professionals to help our clients resume their lifelong pursuit of health, fitness, and well-being.
High Quality
We take a goal-oriented approach to healing. Whatever your goals might be we want to help you achieve them
Patient Care
We'll provide hands-on treatment in the office and education you can take home with you, enabling you to become an active participant in your recovery and future oral health.
Professional Service
Our Dentists are highly skilled and have tremendous clinical experience with a  shared passion for helping our community stay Oral problem free.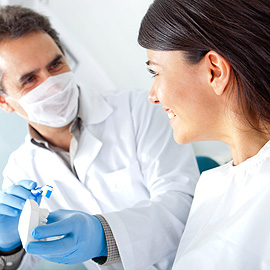 Dr. Preay K Mehta has pursued the highly demanding field of Oral - Implantology from a much coveted Institute in London under the Mentorship of leading UK Implantologist - Prof.Dr. Stewart Harding. after graduating from the Dental School.
Dr. Preay Mehta is trained in Dental Implant CADCAM Scanning Technology by RENISHAW DENTAL TECHNOLOGIES, LONDON.
Dr. Preay Mehta was privileged to be the one of the very few Indians to be present at the WORLD CONGRESS OF IMPLANT AESTHETICS in October 2012 held at the UNIVERSITY OF WARWICK , Coventry, England. Dr. Preay Mehta attended the BONE & TISSUE DAY held by BOTISS at the BRITISH DENTAL ASSOCIATION spearheaded by Dr. Bernhard Gleisenhagen and Dr. Michael Jacotti.
Apart from Oral Implantology, Dr. Preay Mehta also specialises in various Anti-Ageing and Face Rejuvenation Treatments including Botox and Dermal Fillers. Dr. Preay Mehta has also successfully accomplished various Continuing Dental Education courses in Aesthetics, Root Canals & Smile designing.