Latest Dental Techonology - Get Fixed Teeth in a Day - No more Waiting !!
Teeth in a Day – No More Dentures
Have you struggled for years with a loose or uncomfortable denture?

Are you worried and are hanging onto wobbly, loose teeth because you want to avoid having to wear dentures?
Now we have the answer: With Teeth in a Day you can arrive at the clinic, with your denture or missing teeth, and leave that evening with a confident new smile, a full set of your very own fixed teeth!
What are Basal Implants / Fix Teeth in 3 days / Immediate Implants ?
Basal Dental Implants or Bi-Cortical Dental Implants are also known as Immediate Loading Dental Implants. They are the latest Innovation Dentistry has to offer. 
Basal Dental Implants are much easier and convenient for patients - as they are placed without any major surgery. Basal implants do not require any Bone Graft surgery or complicated Sinus Lift surgery. No surgical incision or surgical flaps are required to place these Implants - therefore NO stitches/sutures are required after Dental Implant placement.
Indications of Basal Dental Implants - Basal Implants can be placed almost in any Dental condition where there are missing teeth.
Basal Implants work the best for patients who have lost all their teeth and need a faster & permanent solution to get fixed teeth.

They are indicated in Patients who need fix teeth immediately after tooth/teeth removal.

Basal implants work the best in patients who have been denied or refused Dental Implant treatment by other Dentist's because of insufficient jaw bone or poor oral bone quality.

These implants have a high success rate for patients who are Smokers, patients with Gum disease & for patients having bone with less height.
Can be safely placed in Patients for any age, also are safely indicated for patients with Diabetes & Heart Problems.

Call us or Whats app us on: +91-9537973737 / Mail us for the best second opinion if other Dentists have refused you Dental Implant treatme

Send / email / Whatsapp us your Dental x-rays, if any, to get the best expert advise or the final opinion for your Dental Implants [ OPG or any dental 3D scans such as Cone Beam Computed Tomography : CBCT ]
The Simple Truth about Basal Implants  - Basal Implants are based on the same principle as the way Orthopedic Surgeons place the Knee / Body Implants. Basal Dental Implants engage or get fixed into the much stronger, dense & deeper bone connective tissue - The Basal Bone. The Basal bone is much more dense, much more stronger & stays lifelong unlike the Alveolar bone or Crestal bone ( Old conventional Implants are placed in this weaker Alveolar / Crestal portion of the jaw bone ) Basal bone is always present, till death, even if you have lost a good portion of your superficial alveolar bone. When you lose a tooth or multiple teeth, the alveolar bone starts shrinking & goes away within a few years. But the Basal bone always remains there.
Due to such strong Dental implant fixation, just while placing the implants ( a very good amount of primary stability & Implant fixation torque is achieved while placing Basal Dental Implants) , it is very much possible to load the implants with Fixed Teeth immediately after tooth removal or Dental implant placement. Hence no healing time phase period of 3-6 months is required for the implant to heal or fix to the bone.
How Teeth in a Day works ?
You arrive at Dental Spa, first thing in the morning on the day. Any problem teeth are removed and specialized dental implants are gently placed. Our in-house dental laboratory will then make your new teeth while you relax. Later in the evening, your new teeth are fitted securely in place. You can enjoy dinner that same evening with new, fixed, solid teeth.
Dental Spa is a leading Dental Implant centre in Vadodara India, offering the best Dental Implant treatment outcome results to patients from all around the World. We are changing Lives, not just Smiles.
Get fixed teeth within 3 days with the latest revolutionary Dental Implant Technology - Fix Teeth in 3 days / Basal Implants in a painless way.
Dental Spa is highly rated & recommended by Patients from all over the World for Dental Implant Treatment. Call us today : +91-9537973737
  Structure/Design of Basal Implants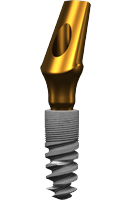 An Overview
Teeth in a day is entirely comfortable, from start to finish. When you arrive at the clinic, our friendly team will make sure you are relaxed and worry-free for the duration of your time with us. We use an effective sedative to ensure you are relaxed and so you don't feel any discomfort. The implants are gently placed and this unique procedure allows us carry out the entire process in one day, meaning less down-time and you.
On the day of your consultation, you will be given a full, printed and fully costed treatment plan. This procedure is painless and some cases may be partially covered by your health insurance. If you would like to know more about the procedure or wish to inquire about finance options, get in touch with our lovely reception team and we'll do our best to answer any questions. Click here to book your Appointment Online.
Call us on +91-9537973737 and come in for a consultation where you will find out more about the procedure and to see how this kind of procedure will benefit your life, call our team now for your Teeth in a Day consultation.