Description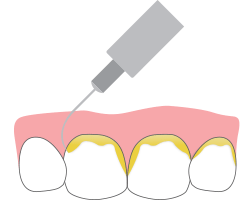 The professional cleaning of teeth is called oral prophylaxis and is carried out in two phases – Scaling and Polishing . This treatment protects the gums from infectious diseases that could lead to loss of teeth. Scaling removes plaque, tartar and stains that cannot be removed by regular brushing from the exposed and un-exposed surfaces of the teeth. Polishing makes the surfaces of the teeth smooth. This treatment results in clean and smooth teeth.
At Dental Spa, we use the latest generation Ultrasonic Scalers that use advanced technology in the state of the art control module to reduce sensitivity after scaling. We use only filtered clean water for scaling procedure.
An effective way to keep your Gums and teeth Healthy !!
Regular 6 monthly Cleanups ( Scaling + Polishings ) increases the longevity of your teeth & Gums – helping them to last a LifeTime !!